Body
China Life Insurance (Overseas) Company Limited ("China Life (Overseas)") is a wholly-owned subsidiary of China Life Insurance (Group) Company, China's largest state-owned financial insurance corporation. For 20 consecutive years, China Life, the parent company, has joined the ranks of Fortune Global 500 companies, and ranked 40 in 2022, with brand value exceeding RMB 452.539 billion1.
China Life (Overseas) currently has presence in Hong Kong, Macau, Singapore and Indonesia. The Hong Kong branch was established in 1984, the Macau branch opened in 1989, while China Life Trustees Limited was set up in 1995. In recent years, the company successfully expanded its footprint into Southeast Asia, establishing a Singapore subsidiary as well as the Indonesia subsidiary in 2015 and 2018, respectively. As of 2021, China Life (Overseas) had a total premium income HKD59.7 billion. With a total asset value HKD454.6 billion2, the business covers three main categories, including life insurance, investment, and provident fund services, providing customers with professional, high-quality products and services.
China Life (Overseas) is assigned an "A1" insurance financial strength rating by Moody's 3, and an "A" long-term local currency issuer credit rating and insurer financial strength rating by Standard & Poor's 4.
1 Source: 'Top 500 Most Valuable Chinese Brands' 2022 by World Brand Lab
2 As of 31 December, 2021
3 As of 27 October, 2022
4 As of 20 December, 2022
About Macau Branch
China Life Insurance (Overseas) Company Limited Macau Branch was established in 1989. Its main business scope covers life insurance, group medical insurance, and provident public fund. It has 13 agent banks and 139 branches. In 2020, the total assets were 72.6 billion patacas, among them were the life insurance premiums 11.27 billion patacas, and the market share was 43%. The main customers included large Chinese-funded groups, large-scale associations, banks, universities and colleges.
In 2018 it became the first batch of central financial management entities in Macau.
Chairman of the Macao Social Security Bureau presented a certificate to  Mr.zhoushijun,general manager of macau branch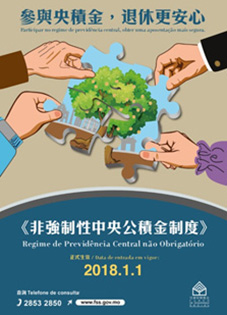 The law came into force on January 1, 2018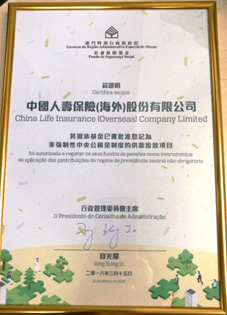 The certificate